I have been sitting here wanting to do my normal Friend Making Monday , but nothing is up so I have been tooling around some sites.
Well I belong to the Sits group and somehow I joined Blog Frog.
From there I moved to communities and found out there are a lot of giveaways going on.
The Tip Junkie has stuff up about their prizes and I HIGHLY recommend you check them out!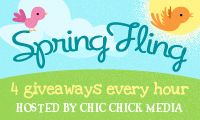 Also check out Sits as They will be giving out prizes every hour as well!
I am so excited I can't wait for tomorrow!