Well it's that time again for card sharing Sunday. I actually managed a few cards this week. First let's start with the
mojo
monday
card. Here is the sketch...
And here is my take on it ...
I said it once this week I am not ready to work on Christmas just yet. I feel like it was just Valentines day! Most of my cards are Halloween this week. I can't wait to mail these off with some goodies.
Anyway as you can see I left off the bow. I didn't think it fit here at all. But I love how it came out.
Next is the
Macrabe
Monday Challenge over at
Haunted Design House
. This week was Menacing Movables. Now before we get to it, I just have to say that card making after
mojo
monday
this week was not with me. Nothing wanted to work right for me. Well at least I started strong on the
Macrabe
Monday Challenge because I threw in the towel this week. I tried a shaker card first..bad bad bad idea. Its so ugly even Chris didn't like it.
LOL
WOW!
But after discussing my lack of
enthusiasm
with
Bridgett
she suggested I try this tutorial by
Dawn
.
As you can see it is a viewfinder card. You turn the card stock on the right to change the images on the left. I found this one challenging and boy I can see way environmentalists dislike paper
crafters
now. My recycling bin is ridiculous.
Last but not least is my
SBS
group swap. This weeks theme was nature. I saw this first from my friend
Amber
. And then Bridgett showed it to me on Splitcoast but I can't find the link so it's not an original idea so if you know whose it is let me know so I can give them the kudos for it. Reminds me of a
bouqet
of flowers. Loved it. Perfect end to the weekend so pretty...
lol
well not Halloween anyway.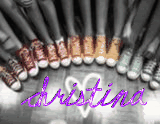 Photobucket" border="0">