I am sure you have heard the saying if don't believe in something you will believe in anything.
In today's world we are taught to be tolerant of people's choices and in doing so we often don't care what others believe, as long as it doesn't bother our life.
But as most Christians and new believers come to see those closest to us will notice a change and often try to knock it out of us. But to believe we need to grow and change even if it means letting people/behaviors / or things we have known for all our lives go. We can not grow and change in the Lord and still have satans behavior knocking at the door to us. No one said this life of belief would be easy. But God promises us it will be worth it.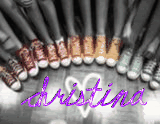 and in doing so we often